Every year, a huge variety of lacrosse shafts are made available in the market. These include short shafts, long shafts, heavy shafts, light-weight shafts, composite shafts, alloy shafts and many others. It can be a daunting task to find the one shaft that is right for you. To make this task easier, we have brought together a quick list of best lacrosse shafts for this year as well as a quick guide below. We hope that this will significantly help you in making the right choice when finding the perfect shaft.
Best lacrosse shafts 2018
Brine King Magnum Attack Lacrosse Shaft
Brine is known as one of the top manufacturers of premium lacrosse equipment, including top quality lacrosse shafts. The company is quite popular with lacrosse players around the world. This year, the company has launched a number of lacrosse shafts. The Brine King Magnum is one of them.
The Brine King Magnum is a lacrosse shaft meant for attacking players. When playing on the offensive position, you will essentially need a shaft that is light-weight. This is because you will need to make hard passes while on the attack and the speed of these passes is of critical importance in the attacking position.
The King Magnum shaft embodies this feature well. This shaft is constructed from aerospace grade alloy which is both light-weight and incredibly durable. Durability is also a major concern with attacking players who have to withstand the checks of the defending players on the other side of the field. So a durable shaft ensures that your lacrosse stick will sustain minimum damage when being checked and you will be able to retain a better control of the stick.
The Brine King Magnum shaft offers an excellent strength-to-weight ratio. Available in stunning silver and black color options, this shaft is definitely one of the best attack shafts available this year.
Epoch Dragonfly C60xl iQ5 Gen. 5 Composite Defense Lacrosse Shaft in Carbon Grey
Epoch has gained significant traction in the lacrosse shaft arena in recent years. This has been in part due to the extraordinary concave shafts that the company has specially designed. Meticulously designing these shafts with concave geometrical shape, Epoch has ushered an all-new genre of lacrosse shafts.
The Epoch Dragonfly iQ5 is another one of these concave shafts from Epoch. The company has constructed this shaft from composite material, so it offers a lot of flex as well as excellent durability.
The shaft is meant to be used by defensive players, so having a good amount of flex is immensely useful for any defense player using this shaft. The concave geometry of the shaft ensures that it is sturdy enough to withstand the pressure of the game and enables the players to successfully intercept hard passes of the attacking players.
The Dragonfly shaft is 60 inches long and Epoch has used both the Axis Technology and the Reload Technology in its construction. With a good amount of flex, an extraordinary amount of durability and a very sturdy build, this shaft is excellently suited to the defensive players. So once you get this shaft, you can rest assured that it is going to last you a long while.
Maverik Lacrosse Men's Attack Apollo Shaft
The Maverik Apollo shaft is an attack shaft offered by the company this year. Maverik is known for specializing in premium shaft designs and is incredibly popular with lacrosse professionals around the globe.
The Maverik Apollo shaft is meant for use by the attack players. And to this end, the shaft embodies the two key features required by attacking players: light-weight and speed. In fact, Maverik claims that this shaft has been built around pure speed. This is well reflected in the incredibly light-weight profile of the shaft.
The Apollo shaft is constructed from scandium-titanium alloy which offers the benefits of being light-weight as well as durable. The exceptionally low weight of this shaft means that attacking players can achieve great shot velocities when using this shaft.
The shaft features a premium bead blasted finish and a dynamic wall taper. The adjustable butt-end of the shaft further allows you to tweak the grip of the shaft precisely according to your needs and style. The Apollo shaft is available in three stunning colors, namely red, silver and black.
Maverik Lacrosse Wonderboy Defense Shaft
Maverik Lacrosse Wonderboy is one of the most iconic shafts ever launched by the company. This shaft has remained incredibly popular among the defensive lacrosse players and offers all the pertinent features for defensive play.
The Wonderboy shaft is designed to meet the needs of defensive players. Maverik has used 9000 Series Alloy in the construction of this shaft. As a result, the shaft is able to deliver a solid degree of strength and sturdiness. Naturally, these features make it an excellent choice for defensive players who need a reliable shaft when confronting the attacking players and when trying to check the attacks.
The alloy construction together with the unique design of the shaft also means that it is highly durable. So when you are using this shaft during a game, you can rest assured that it is going to serve you in good stead without fail. The TACTILEGRIP technology used in the shaft further enables you to maintain a solid grip on the shaft when wielding it.
The Wonderboy shaft is available in a wide variety of colors. These include black, carolina, fluorescent orange, green, navy, red, royal and silver. For defensive players looking for a very reliable and high-performing shaft, this 60-inch shaft is a great choice.
STX Lacrosse Stallion 500 Attack/Midfield Composite Lacrosse Shaft with 85 Flex
STX has constructed some of the best lacrosse shafts over the years. The company especially specialized in creating the top-of-the-line composite shafts which deliver a solid performance on the field.
This year is no different with the launch of the Stallion 500 composite shaft from STX. This shaft has been created from top-quality composite material. The light-weight and high-strength carbon composite used in the construction of the shaft ensures that it offers great speed as well as a good degree of flex. In fact, this shaft offers flex without bend which means that it is well suited not only for the attacking players but also for the midfielders.
STX has used its trademark Flex technology in the construction of this shaft which ensures a consistent flex throughout the body of the shaft. To top it is the special tactile finish which ensures that you are able to wield this shaft while maintaining a solid grip.
The Stallion 500 shaft is available in black and white colors. And it is definitely one of the best attack/midfield composite shafts to have come out this year.
Warrior Kryptolyte 11 Goalie Lacrosse Shaft
The Warrior Kryptolyte 11 is a lacrosse shaft specifically designed for the goalies. The company, Warrior, has been manufacturing quality lacrosse equipment for many yeasr. The Kryptolye line-up is one of the most popular lacrosse shaft line-up that the company has.
Kryptolyte 11 is the latest in this line-up and is one of the best goalie shafts available this year. Warrior has made use of Kryptolyte grade alloy material in the construction of this shaft. As a result, the shaft is able to offer a light-weight profile, great wielding speeds and a solid durability.
The shaft features a rounded-edge shape which makes it incredibly intuitive to hold and use on the field. The circular shape also enables a firmer grip on the shaft when defending the goal against incoming attacks. The Kryptolyte 11 shaft is very light-weight and comes in a wide variety of colors. So you can choose the exact color you like on a shaft that offers top performance for lacrosse goalies.
Things to consider when choosing the lacrosse shafts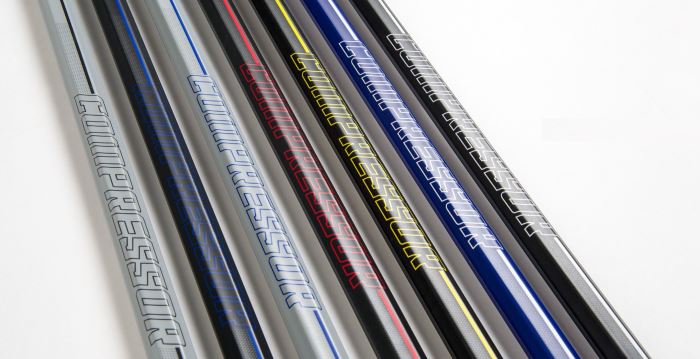 Image source: boombah.com
Weight
The weight of the shaft is a key factor to consider when finding the right shaft. Typically, if a shaft is light-weight, it is easier to wield and can be used for quicker passes and shooting. On the other hand, if a shaft is heavier, it comes with a stronger profile and is able to navigate through rough playing, and yet it is slower to wield.
The right shaft weight for you depends on what position you play on the field. If you are an offensive player, you need a stick that you can wield with speed and accuracy. For this purpose, you will be better off with a stick having a light-weight shaft.
Alternatively, if you are a defensive player, you need a shaft that will be able to make hard checks and intercept high-speed passes and shots without incurring any damage. So as a defensive player, the strength and durability of the shaft is a primary concern. So a heavier and sturdier shaft is preferable when playing on the defense.
The midfielder shafts can be light-weight or heavy depending on the style of the player. It shouldn't be heavy enough to slow down or too light for defending against the attacks of the opponent team.
The goalie's shaft is, likewise, a good balance between weight and strength. A goalie has to withstand speedy shots from opponents and at the same time, needs quick movements to be able to intercept the attacks. So a goalie's shaft should be light enough for speed and yet, strong enough to be reliable.
Length
Like weight, the length of the shaft is also directly dependent upon which position you play on the team. If a shaft is long, it enables you to cover a large area with it and reach out to a greater distance around you.
However, a longer shaft is heavier at the same time and is slightly slow. On the other hand, a shorter shaft is quite light-weight and the player can wield it with great speed. But it doesn't provide as good coverage as a longer shaft.
If you are an offensive player, you need a shaft that enables you to shoot more accurately and with greater speed. A shorter shaft offers these features and is therefore well suited for offensive play.
If you play on the defensive position, you need a longer shaft which is heavier, sturdier and enables you to cover a larger area. This will enable you to intercept passes and shots more easily.
Lacrosse shafts comparison
Attack Shaft
An attack shaft is used by lacrosse players on the offensive position. An attacker has to be swift and accurate when passing the ball or shooting it. So the lacrosse shaft used by the attack player must offer these features.
Typically, a short shaft offers these features. It is light-weight because of its smaller size and also offers more precision in releasing the ball. In fact, in professional men's lacrosse games, the standard attack shafts are sized between 40 inches and 42 inches, making them considerably smaller compared to defense shafts.
So if you are an attack player, a short shaft with a light-weight profile and good degree of flexibility if your best bet for good performance.
Defense Shaft
Defense players in lacrosse need a stick that is strong enough to withstand the opponents and to intercept their passes. Defense players also need to be able to cover a larger area in order to successfully combat their opponents.
So a longer shaft is more suitable for defense players. Defense shafts are typically longer and constructed from sturdier materials for added strength and durability.
This ensures that the defenders can throw effective stick and body checks at their opponents without incurring any damage to the shaft. Standard defense shaft length in men's professional lacrosse is 52 inches to 72 inches.
The longer the shaft, the greater will be the area you can cover with it but it will also be heavier at the same time. So if you play on the defensive position, choose a long shaft that caters to your style.
Goalie Shaft
As a goalie, your key concern is speed. You need speed to be able to intercept any attacks on your goal. Even a matter of milliseconds can make a huge difference. However, at the same time, you need a shaft that is able to withstand the high-powered shots coming from the attackers.
So a goalie shaft necessarily has to be a good balance of length, weight and durability. There is a lot of space to make your personal choice when it comes to goalie shaft.
Professional men's lacrosse game, for instance, allows a goalie shaft to be anywhere between 42 inches and 72 inches long. So it is up to you to find a goalie shaft that gives you the right speed, a good degree of sturdiness and a suitable length.
Conclusion
The right shaft is critically important for a lacrosse player. If you have the right shaft in your hands, it will go a long way towards improving your performance on the field. As mentioned above, the right shaft for a lacrosse player depends upon many factors.
You have to consider the position you play at, your style and other things. Although we have provided a quick list of best lacrosse shafts for this year, you can narrow the list down to the one perfect shaft by considering the related factors.